Single Membrane Covers
Single Membrane covers
The Single Membrane Structure, also known as silocover, is constructed of heavy polyester textile with a synthetic coating material on both sides to reduce emissions and avoid dilution.
The silocovers are designed for all types of tanks, glass-fused-steel tanks and concrete tanks.
Single membrane structures are silocovers with a centre column and a membrane material that is welded to shape and tensioned in place. The foil templates are first cut on CNC machines. The welding is realized on industrial high frequency welding machines. All silocovers are checked by an internal quality service. The product is certificated for all tanks.
A team of skilled assembly workers, equiped with all required certificates, take care of installation worldwide.
Degree of emission reduction:
Natural layer: +
Floating Cover: ++
Plastic FC: +++
Concrete cover: +++
SM cover: +++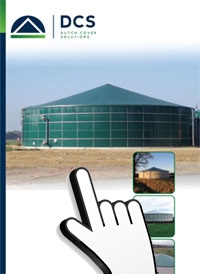 Photos